For English scroll down >>>
Offene Experimentierwoche am Haus der Statistik #001
Das Mobile Foyer ist ein räumliches Experiment, das sich mit der Frage beschäftigt, wie ein Raum der Zusammenkunft aussehen muss, damit die Trennung zwischen Gast und Gastgebenden aufgelöst wird. Das Mobile Foyer bildet zuallererst ein Ankommen vor Ort und einen Gegensatz zum Getummel am Alexanderplatz. Das Publikum wird eingeladen, sich vor dem Betreten jeder Veranstaltung im Bühnenraum, genannt OTTO, im Wohnwagen Foyer körperlich aufzuwärmen, um so den Kopf nach einem langen Tag für neue Eindrücke wieder frei zu bekommen.
Bringt mit, was ihr gerade lest, oder was auch immer ihr braucht, um euch wie Zuhause im Wohnzimmer zu fühlen.
PROGRAMM




**öffnet täglich ab 15h mit Tee, Kaffee und Kuchen



+++ 28.03.,19h #Workshop "Wie stören?"
+++ 31.03., 16h #Lecture Performance
"Nacktheit in der Kunst"
+++ 01.04, 10h #24h Frühstücken
+++ #Weissagung to go
Open Experiment Week at the House of Statistics #001
The Mobile Foyer is a spatial experiment that deals with the question of what a space of gathering must look like in order to dissolve the separation between guest and host. First and foremost, the Mobile Foyer forms an arrival on site and a contrast to the hustle and bustle of Alexanderplatz. The audience is invited to warm up physically in the Caravan Foyer before entering each event in the stage space, called OTTO, in order to clear their heads for new impressions after a long day.
Bring whatever you're reading or whatever you need to feel like home in the living room.
PROGRAM


**open daily from 3pm with tea, coffee and cake
+++ 28th March, 7pm #workshop "How to disturb?"
+++ 31th March, 4pm #Lecture Performance.
"Nudity in Art"
+++ 01st April, 10am #24h Breakfast
+++ #Prediction to go
Wie stören?
Was ist eine Störung?
Wann fühlst Du Dich gestört?
Und was stört Dich?

Eine Störung im Betriebsablauf, Bildstörungen, Artefakte, Signalstörungen oder einfach 
Irritationen im Alltag als Störung. In dem Workshop werden Künstler*innen und -Gruppen vorgestellt, die mit Störungen als ihr Medium arbeiten. Gemeinsam werden Prototypen für mögliche, produktive Störungen entwickelt.

How to disturb?
What is a disturbance?
When do you feel disturbed?
And what disturbs you?
A disturbance in the operational process, image disturbances, artifacts, signal disturbances or simply 
irritations in everyday life as a disturbance. The workshop will introduce artists* and groups who work with disturbances as their medium. Together we will develop prototypes for possible, productive disturbances.
Es geht an diesem Tag nicht ums Programm. Es geht nicht darum, dass wie bei einem Kinobesuch schin auf dem Weg dorthin mehr oder weniger klar ist, was einen erwartet. In den meisten Fällen habt ihr vorher sogar schon einen Trailer gesehen. Fürd das Frühstück gibt es keinen Trailer und auch keinen Klappentext. Es geht irgendwie darum, zusammen zu kommen und sich 24h Zeit füreinander zu nehmen. In der Übermüdung mal aus der antrainierten Ordnung rauszukommen und anders miteinander ins Gespräch zu gehen. Mal ein bisschen Richtung Paradies rudern. 24h Frühstücken eben. Kurze Nickerchen sind natürlich erlaubt, dafür gibt es Betten und Sofas. Es wird Live-Musik und eine Frühstücksfernseh-Ecke geben, von der aus moderierte Gespräche live ins Internet übertragen werden.
This day is not about the program. It's not about the fact that, as with a visit to the cinema, it's already more or less clear on the way there what to expect. In most cases, you will have seen a trailer beforehand. For Breakfast, there is no trailer and no blurb. It's somehow about coming together and taking 24h time for each other. In the overtiredness to get out of the trained order and to go differently with each other into the conversation. Rowing a bit in the direction of paradise. 24-hour breakfasts. Short naps are of course allowed, there are beds and sofas. There will be live music and a breakfast TV corner, from which moderated conversations will be broadcast live on the Internet.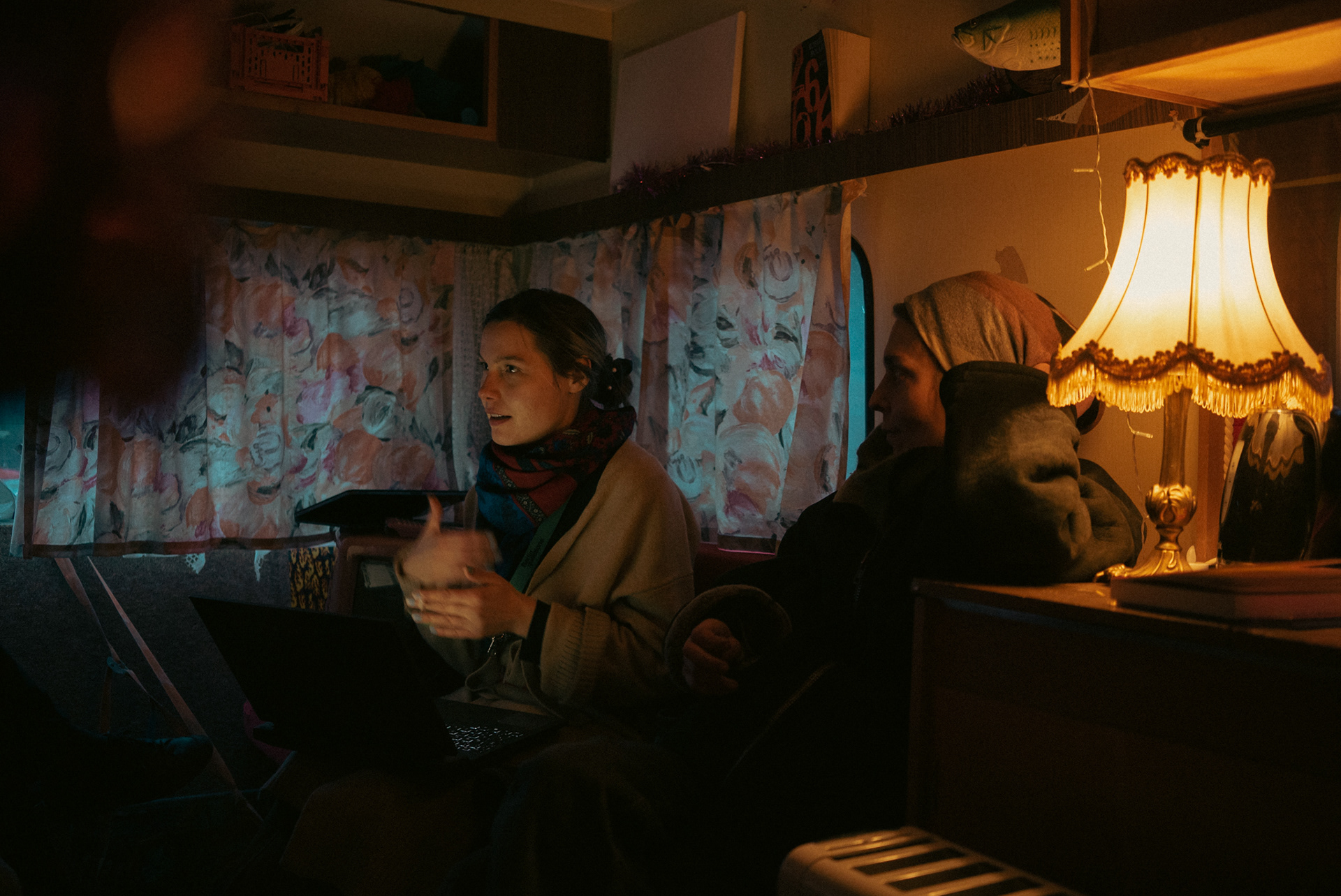 FutureLeaks: Anna de Carlo
Performative Soziologie: Dr. Robert Jende
Karuna Sozialgenossenschaft: Jörg Richert
Karneval der Kulturen: Geraldine Hepp
JobCenter: 

Susanne

Aßmann-Horny 
Push Push Arts: Tim Habeger
Boxerin: Petra Graf
Artist Way: Tycho Pfäfflin
Inkarnator: James Edmond
Enttäusche Mich: Rahel Savoldelli, Tancredi Volpert, Daniel Wittkopp
Jacke verloren: Vladimir Stramko & Gäste
u.v.m.